When friends come to visit I like to give them a taste of something special from Aotearoa. Last time it was Jelly Pie, more unique than I realized. What was once a staple at my high school tuck shop was now an almost unknown oddity. Missing from the supermarkets and dairies I tried, and requests for it meeting with blank stares. Family friends began to doubt its existence, and my quest hit rock bottom when even internet searches couldn't produce any mention of the existence of the classic New Zealand Jelly Pie.
So, I decided to rectify this terrible omission, and located a Jelly Pie at our local Pak 'n' Save. Here are the pics to prove it.
Refrigerated baked goods, that looks promising."Excuse me sir, you can't take photos in here!"
"But I have friends who don't believe in Jelly Pie."
I see custard pie and apple pie, but what's that between the Lamingtons and the Applecot Crumble?
And there it is, Jelly Pie in all its glory.
The ingredients give a good indication of the experience of eating it. Although I do wonder why fruit isn't listed, is it an omission, or are those apparent chunks of pear in fact something much more sinister?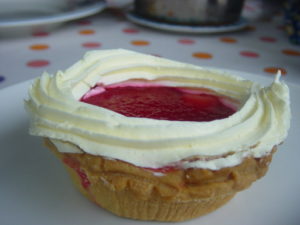 After the family taste test in which Grandpa gave up half way through his piece and my daughter held her nose while chanting "disgusting", I think I understand why Jelly Pie hasn't made an international sensation. Perhaps one day in the future someone will create a gourmet version.